Students! Did you do your profile survey? Check your email for a chance to win a £20 voucher and tell us what you think now!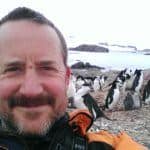 Wow, I can't believe I won! I had an amazing time and am already missing the frantic, frenzied, fun that was the live chats. The students were brilliant with a whole range of excellent questions. My head still hurts from trying to ponder the meaning of life or what is my favourite scientific discovery. I am used to answering questions about seals and penguins but learnt so much myself about "the big bang theory", "what the universe is made of" and "the chances of aliens existing".
I have always enjoyed doing outreach work as the children's enthusiasm is so infectious and, as a scientist, it is a great reminder of what inspired me to do research in the first place: The simple joy of discovery and learning about how the world works.
The only downside was that ALL the scientists can't win. I know that sounds a little corny but it really felt like we were a team. The scientists in the Mendelevium Zone were fantastic, especially Carl, Emma and Heidi who I know were busy bashing away at their keyboards in live chats, although we barely had time to breathe let alone read each other's answers. We did manage a few hellos in the odd quiet moment and their tireless work was clear to see in the sheer amount of ASK questions they addressed. Again, I learnt so much from them and got to hear some cool stories about drug trials and even ancient socks!
When I initially applied I had no real idea what lay in store, I don't think any of us realised how much we would care by the end! The format is really clever and draws you into the whole thing. The evictions were tense and everyone was genuinely upset at people leaving (even though they weren't actually going anywhere and could still participate). Hopefully together we will have inspired a new generation of students to consider a career in science or at least to appreciate what it is all about.
I have only the highest praise for the organisers, they were incredibly helpful when I had a technical problem, supportive and very funny depending on circumstances and maintained the enjoyment everyone was having. The whole thing ran very smoothly despite what must be a logistical nightmare linking schools and scientists scattered everywhere with all manner of computer equipment.
Now I'm back to my research with renewed enthusiasm and drawing up more detailed plans of how I can best use the prize money. My idea is to build an exhibit that will highlight the issue of underwater noise pollution, allowing people to experience the sounds animals make underwater and understand how the noise of our marine activities, such as construction and shipping, can interfere with their lives.
So thanks to everyone involved, especially to all the students, teachers, staff and scientists who were involved in the Mendelevium Zone I hope you had as much fun as me. If you are reading this and considering entering I'm a Scientist then I would simply say DO IT!
Scientists! If you'd like the chance to win funding for your own public engagement work, apply for the next I'm a Scientist, Get me out of here: imascientist.org.uk/scientist-apply