Profile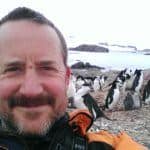 Iain Staniland
Thank you so much for all the Brilliant questions I had such fun!
Curriculum Vitae
Education:

I went to the City of Leicester School (where Gary Lineker went to school). Then to Swansea University to do my undergraduate and finally A PhD at Leicester University working at the CEFAS laboratory in Lowestoft.

Qualifications:

a degree in Marine Biology and a PhD in fish feeding

Work History:

After My PhD I went straight to work for BAS. Other than that I have numerous part time jobs such as butcher's assistant, WH Smith's record department, legal research assistant in Hong Kong etc.

Current Job:

Antarctic Wildlife Ecologist

Employer:
Favourite thing to do in my job: Working up-close to amazing animals

About Me

Seal bothering scientist not adverse to pestering penguins and watching whales

Read more

I live in Cambridge with my wife (who is a Marine Biologist and has dived under the ice in Antarctica and the Arctic) and our two children (Morten 7 and Freya 5).

I used to play a lot of sport but now my only exercise is my daily cycle to work and back, and the occasional kick about in the park with my children. I have traveled to some amazing places, with my work and just for fun. I love the water especially the sea, I love scuba diving, falling off a surfboard and just splashing about.

My Work

I am a biologist working with Antarctic animals such as seals, penguins and whales

Read more

I am a biologist and I work with wildlife in the Antarctic such Seals, Penguins and Whales.

Most of my work is studying Antarctic fur seals using electronic devices to understand what these animals get up to when they are at sea feeding. These animals were hunted to near extinction for their fur but have since made a remarkable recovery to number in their millions. However they now face new challenges, especially climate change.

My Typical Day

I love my job as it is so varied!

Read more

A typical day for me depends where I am.  One of the nice things about my job is how varied it can be. No one day is the same.

In Cambridge at the headquarters of the British Antarctic Survey my days will involve:

Meeting my PhD students, catching up and seeing how they are getting on.
Coding with R (a computer programme that helps me analyze my data).
Writing scientific papers (this is how I share the things I discover with other scientists).
Reading scientific papers other people have written (using their information to help me).
Making maps of where the seals have gone.
Talking to the researchers in Antarctica to find out how the animals are doing.
Learning new skills (reading books, online courses etc)

A video of some leopard seals I tracked. The coloured dots represent the daily position of each seal over a year. You can see them moving from Bird Island, where we put the tags on, to the Antarctic Continent.

In Antarctica things would be very different a few examples of things I would get up to are:

Check the weather, this will determine what we need to and what we can actually do.
Walking on the the beach to see which seals and penguins have left to go to sea and which ones have returned.
record, weigh, measure all the new seal pups that have been born.
Check the penguin nests to count eggs laid, chicks hatched etc.
attach electronic loggers onto seals or penguins that can tell us what they are up to at sea.
Checking the leg rings of breeding Albatrosses

I also have jobs to keep the field camp going for example:

First thing in the morning, I will need to light the stove to warm things up and make breakfast.
Cleaning the water filters to ensure we have fresh clean water to drink.
Refuelling the generators, to charge laptops and radios.
Downloading emails via the satellite phone, a very slow process.
Heating water to have a wash (warming a bucket of water to clean myself with).

What I'd do with the prize money

Build an exhibit to allow people experience underwater noise pollution and understand how this causes problems for marine animals.

Read more

Noise pollution is becoming serious problem in the world's oceans. Because it is often difficult to see underwater, many animals use sound to navigate, communicate, and find food. Underwater noise, from shipping, construction and other human activities is increasing, making it more and more difficult for animals such as whales to live normally.

If I win I will use the prize money to help create an exhibit to let people experience the under water sounds of animals and the effects of such underwater noise pollution highlighting this little known problem.

My Interview

How would you describe yourself in 3 words?

Enthusiatic Antarctic Biologist

What's the best thing you've done in your career?

Lived on a small Sub-Antarctic Island for two and a half years (with no breaks)

What or who inspired you to follow your career?

David Attenborough, My Biology Teacher and Jacques Cousteau

What was your favourite subject at school?

Biology

What did you want to be after you left school?

Marine Biologist

Were you ever in trouble at school?

Occasionally for talking to much

If you weren't doing this job, what would you choose instead?

Rock Star (only I can't sing or play any musical instruments)

Who is your favourite singer or band?

Barenaked Ladies (Canadian Rock Band)

What's your favourite food?

Curry and Chocolate Eclairs (eaten separately)

What is the most fun thing you've done?

Sailing down the Antarctic Peninsula surrounded by Mountains, Icebergs, Penguins, Seals and Whales

If you had 3 wishes for yourself what would they be? - be honest!

to be able to sing, be braver and better at coding!

Tell us a joke.

Two parrots sitting on a perch, one says "Can you smell fish?"
---
---
---